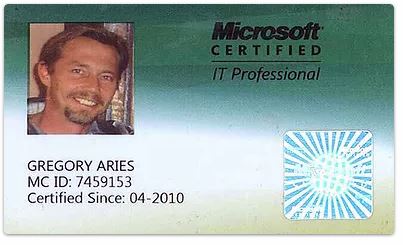 I am a Certified Microsoft Engineer with over 20 years experience servicing all Microsoft computers. I can help you sort out pesky virus's, repair laptops, Pc's, setup networks, data transfers, training and many other support issues.
Just a little bit about Us.......
Full hands-on experience of repairing and upgrading peripherals, desktops, laptops and servers. Imaging PC's from Ghostcast server. Data migration from current users old PC's to new PC's, testing and support. Advanced knowledge of Active Directory monitoring. Creating and updating group policies (GPO's).
Support, maintenance & repairing of hardware & Software on Microsoft Platform (Windows3.11, '95,'98','2000pro, ME, Vista, XP, 7, 8, 8.1 NT4,Server 2K0, Server 2003, Server 2008, Server 2012), TCP/IP, LAN/WAN, Wi-Fi, MS Office (all versions), MMC, McAfee, Avast, AVG,  Backups, DNS, Active Directory (AD), Security, Local & Global Group Polices (GPO's)  MMC, DHCP. Configure DHCP for DNS integration. Manage and monitor DHCP. Configure root name servers, zones, DNS client, dynamic updates, and implementing delegated zones for DNS, create and manage scopes, super scopes and multicast scopes. Repairing and upgrading all peripherals, servers, cabling and computers/laptops.
Since opening KacomiTech in Australia I have successfully traded as a Microsoft support engineer and a sub-contractor to "Zoo Home Computer repairs". I hold various Microsoft certifications and am a registered Australian Business owner.
My duties include but are not limited to:
General maintenance and repairing of pc's, laptops and servers
Data migration and backup using various programs and tools
Network setup and installations – Wi-Fi and LAN
Removal of Virus and spyware
Upgrading of pc and laptop hardware
Data recovery, website design, security
Remote assistance and on site assistance
Adherence to Microsoft Best Practises
Remote and on-site Assitance – Fully mobile – We come to your home or office (even after hours)
Call Now!